NFT for noble causes – tokenization in the world of philanthropy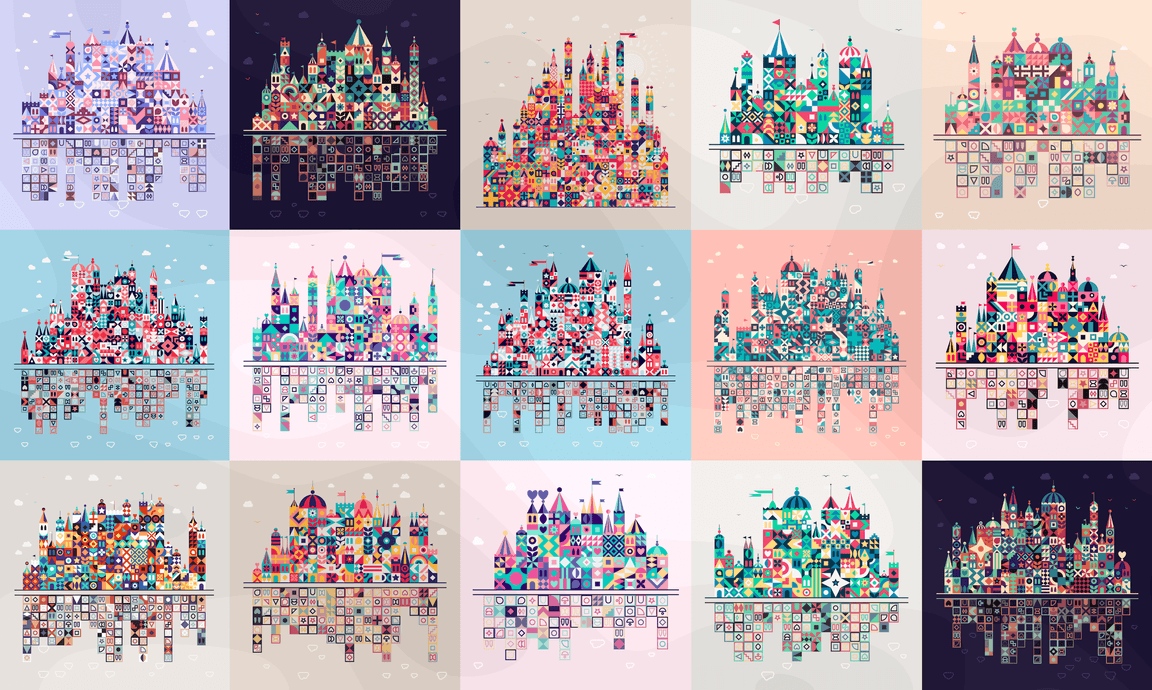 Or what can a tweet with a typo do for humanity?
The talk about non-fungible tokens is getting more and more interesting. No wonder, as their potential for generating income is not exclusive to any particular realm and, for the time being, is limited only by human imagination. NFTs offer the possibility of raising funds in a relatively simple, fast and attention-grabbing way, and it is thanks to these features that they have proved so successful in the world of charity actions.
In this article, you will learn about the potential of NFTs and how they have already been used for good causes. In addition, you will find some tips on how to start raising money with non-fungible tokens in practice.
What it's all about, or what NFTs are
A bit of theory
NFT is an abbreviation for non-fungible tokens, which means they are unique and non-exchangeable. It is a concept in the field of tokenization, which refers to transferring a given value to the digital world, based on blockchain. An NFT token, very briefly, serves as a digital proof of authenticity that an asset, tangible or not, belongs to a particular person. As a result, it is possible to trade and handle digitized assets online.
The fact that a token is non-fungible means that it is unique and you cannot sell, buy or exchange two identical assets. Quite contrary to, for example, exchangeable currencies such as USD, where it doesn't matter which particular coin you own.
OK, but what does all this mean in practice?
What can be turned to a non-fungible token?
NFTs can represent many valuable objects, either virtual or not. These can be physical objects such as real estate, precious metals, collectibles, as well as manifestations of creative activity registered in any form: graphics, musical works, oil paintings, literary works, or even a post on Twitter (more details below). At the same time, the sale of NFT does not necessarily involve the transfer of copyright: the artist can sell the token representing the work in question, retaining the rights to the intellectual property.
Wouldn't it be easier with a print screen?
Naturally, if you want to have a given picture in your collection, just right-click and put it in the selected folder. You can even print it out later. Want to listen to a song? Simply press play in the streaming app or lower the tonearm at our own, tangible, vinyl record.
So what's the point of the NFT? And why is it still so popular?
It's all about those extra benefits, like the certificate of authenticity and ownership. Thanks to this, we have a value which we can trade, transfer and all this is done online, thus conveniently, quickly and from any location. Then there is also the matter of innovation and an intriguing trend that can resonate with tech-hungry audiences. Purchased NFTs can constitute our major investment, diversification of resources, a method to explore the blockchain-based world or simply a form of an interesting project.
Charity with NFT at the heart of the action
Thanks to these qualities, NFTs have found considerable buzz in the philanthropic world. They have already proven to be a winning formula for raising funds for good causes. This unconventional method is still able to capture many recipients' interest. The relative simplicity of issuing tokens also encourages people to use this means.
Numerous organizations have successfully used the potential of this technology to support charitable initiatives in a very creative way. Artists from all over the world are willing to make their works or part of the profit from their sales available for charitable actions. Below is a list of selected campaigns.
NFTs and campaigns held by individuals
Jack Dorsey, CEO of Twitter
First off the already-famous first-ever tweet that has recently earned itself the title of first in history once again, this time in the category of monetized Twitter posts. Back in 2006, when Jack Dorsey posted "just setting up my twttr", he probably didn't expect that the twenty letters would one day be worth $2.9 million, that they would be auctioned off as NFT, and that the winner would compare their status to the Mona Lisa. The money raised was donated to the non-profit organization GiveDirectly which fundraises for COVID-19 relief in countries across Africa and the US.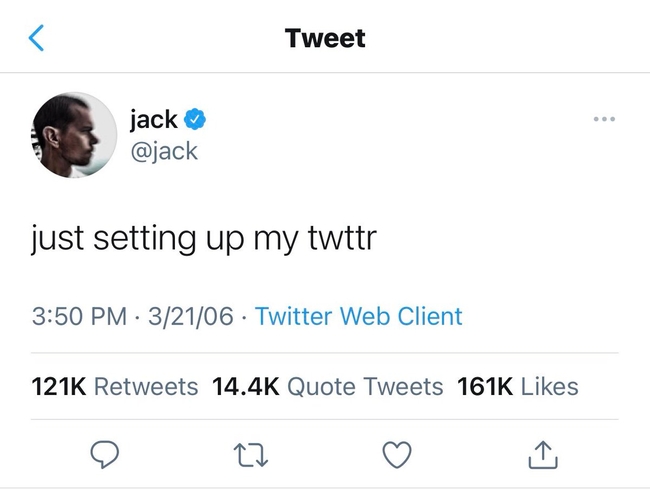 Jack Dorsey's first ever tweet, sold as NFT for $2.9 million. Source: Tweeter
Nadezhda Tolokonnikova (Pussy Riot)
Nadezhda Tolokonnikova, Russian activist, artist and co-founder of Pussy Riot, a group known for its anti-Kremlin protests, has issued 10,000 NFT tokens depicting the flag of Ukraine. The auction was scheduled for 72 hours and managed to exceed the minimum plan in such a short time. The project raised $6.7 million, which went to organizations supporting those affected by the Russian invasion in Ukraine. Tolokonnikova emphasized that the form of the token was not about aesthetic value, but about the symbolic dimension of unity with Ukraine.
Tolokonnikova was sentenced to two years in prison in 2012 for protesting against Putin when she and other members of the Pussy Riot group performed the song "Mother of God, get rid of Putin" at the Cathedral of Christ the Saviour, Russia's most important Orthodox church, located near the Kremlin.
The boxing legend, Wladimir Klitschko, has taken the fight against Russian aggression not only in flesh, but also in the digital world by releasing NFTs under his own name. He carried out the action in collaboration with New York-based artist WhIsBe, author of the Vandal Gummy series of jelly bears holding mugshot plates. The cooperation between the artist and the fist fighter includes a series of 4 NFT rebellious bears in the colors of the Ukrainian flag, made available on the OpenSea platform. All proceeds from their sale were donated to charities in Ukraine.
Kings of Leon are the first mainstream group to release an album in the form of a non-fungible token. The band's eighth studio album, When You See Yourself, generated $2 million income, and the band decided to donate to charity $500,000 out of that amount. The beneficiary was Live Nation's Crew Nation fund that supports touring professionals who have lost or had their sources of income significantly reduced due to the pandemic.
On her talk show, Ellen DeGeneres attempted to explain to viewers what NFT is, admitting upfront with her trademark humor, that she herself has no idea about it. Taking NFT examples such as the aforementioned Dorsey tweet and the digital image of a CryptoKitty sold for $172,000 as inspiration, she decided to create her own NFT content right in front of the audience's eyes. The result was a selfie of Ellen with a sketch of a cat (clearly a catchy subject in the NFT world), which was auctioned off and sold for $31,000. The proceeds raised went to the non-profit World Central Kitchen, which sponsors meals for victims of natural disasters. (You can watch it here).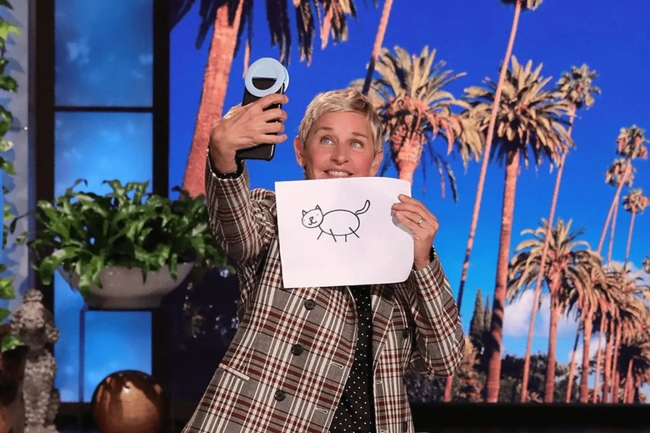 Ellen DeGeneres and her tokenized selfie with the sketch of a cat. Source: Bitski
NFTs for charity by organizations and companies
Peace of Heart is a charity initiative carried out by a collective of organizations and companies headed by Polish NGO Polska Akcja Humanitarna (Polish Humanitarian Action, PAH). The project consists in selling drawings created by Ukrainian children. The digitized versions of artworks were put up for auction in the form of NFT. The income supports victims of the war in Ukraine: children and their parents trapped in the war zone and displaced families. The works of art can be viewed and purchased here.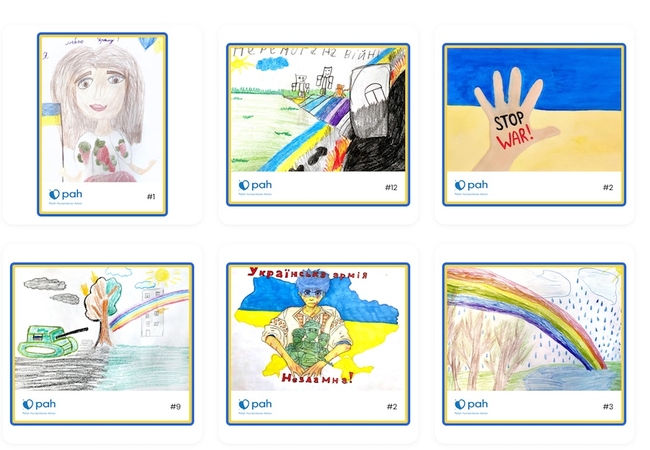 The Peace of Heart NFT collection. Source: PAH
The United Nations International Children's Emergency Fund, (UNICEF) wants to use the potential of NFT to expand internet access in schools. The tokens released are to mark UNICEF's 75th anniversary. All funds raised will go to support the organization's campaigns, including the Giga Initiative project, which aims to spread access to the web in schools for children around the world. With this goal in mind, they have released 1,000 unique tokens created from the graphic work "Patchwork Kingdoms" by Nadieh Bremer (see them here).
Coca-Cola released its first non-fungible tokens on International Friendship Day 2021. The NFTs were developed in partnership with digital designer Tafi and included game-inspired treasure chests with digital clothing, gadgets and other assets that can be used in the virtual world of Decentraland. The auction on OpenSea ran for 4 days, with all proceeds donated to Special Olympics.
Have you heard of bored apes? If not, you should catch up and soon. The Giving Block is a platform for cryptocurrency donations, through which you can support various charities. This is where you can buy NFTs in the form of jaded monkeys, which conquer the hearts of celebrities around the world, and the funds go to the Orangutan Outreach, a foundation dedicated to the protection of orangutans.
Covid:aid is the first UK charity fully committed to supporting those affected by the pandemic. The charity recently put its logo up for auction in the form of NFT. The winner not only supported a worthy cause, but got the chance to make history as the world's first charity crypto-founder.
How to raise funds for your own organization or initiative using NFT
1. Encourage your ambassador
If you have a charity organization and already work with ambassadors, you can think together about a campaign that could attract the attention of potential givers. You could build on your ambassadors' past achievements and tokenize their works, awards or resources that fall into the 'collectables' category. Another way might be to invite them to a new challenge: perhaps an athlete ambassador agrees to paint a picture and sell it as an NFT (see the case of Ellen DeGeneres above), or a musician decides to run a half-marathon and auction off a trophy?
2. Join forces
If you don't collaborate with ambassadors but have an idea for an interesting initiative, try talking to celebrities, artists and influencers. The opportunities for interesting campaigns are as vast as your imagination. Such cooperation will be beneficial for both sides. Apart from the pure pleasure of giving, celebrities can improve their image not only as benefactors, but also as people who are not out of touch with technological trends. :)
3. Ride a wave
Start collaborating with people who have already released NFTs and enjoyed success. They may be artists or business people who want to use their good fortune to raise more funds – this time for your organization. Or maybe they will agree to donate some of the money already raised to your initiative?
4. Use your own resources
As you can see in the examples above, almost anything can become a non-fungible token. Consider what of your own resources can be tokenized: perhaps a logo (see the case of Covid:aid above), an advertising slogan, or perhaps objects with an interesting story? If you're not sure what might work well, you can contact companies that specialize in tokenization and ask for a consultation.
5. Get other organizations to collaborate
Unity is power! Following the example of UNICEF and PAH, convince other companies and organizations to launch a joint charity event. This way you complement each other's resources and skills. This can be a way to act faster and more effectively, increase your reach and improve your chances of achieving your goal.
Summary
The Giving Block, the aforementioned platform for supporting philanthropy through blockchain-based solutions, has made positive reference to the role of NFTs in charity in its 2021 summary report. The study found that non-fungible tokens were one of the most effective forms of fundraising for charity. This source contributed $12.3 million to The Giving Block's supported initiatives, while all resources raised that year by the organization amounted to $69.6 million. By the way, it is worth noting that the total amount raised by the platform compared to the previous year increased by 1,558%.
Non-fungible tokens are proving to be a useful trend, not only for private crypto wallets. NFTs are excelling in the world of philanthropy. They represent an out-of-the-box tool that effectively attracts media and contributors' attention. Features such as relatively simple and quick implementation, easy operation and wide availability also speak in its favor. Undoubtedly, the strong point of NFTs is that they leave enormous room for creativity in the context of objects and themes of charitable initiatives.
You can start tokenizing here.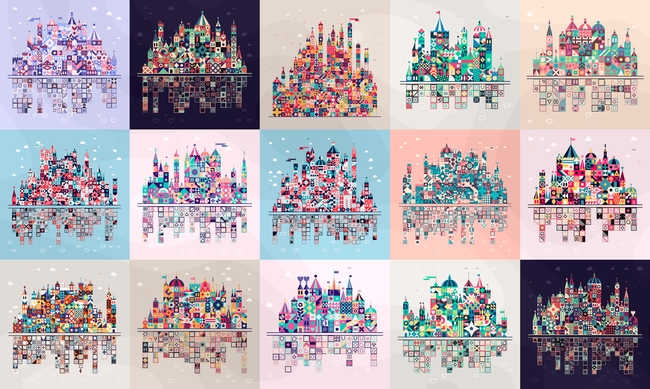 NFTs from the "Patchwork Kingdoms" by Nadieh Bremer. Source: UNICEF