Blockchain 2023: 6 whizzy tech trends plus use cases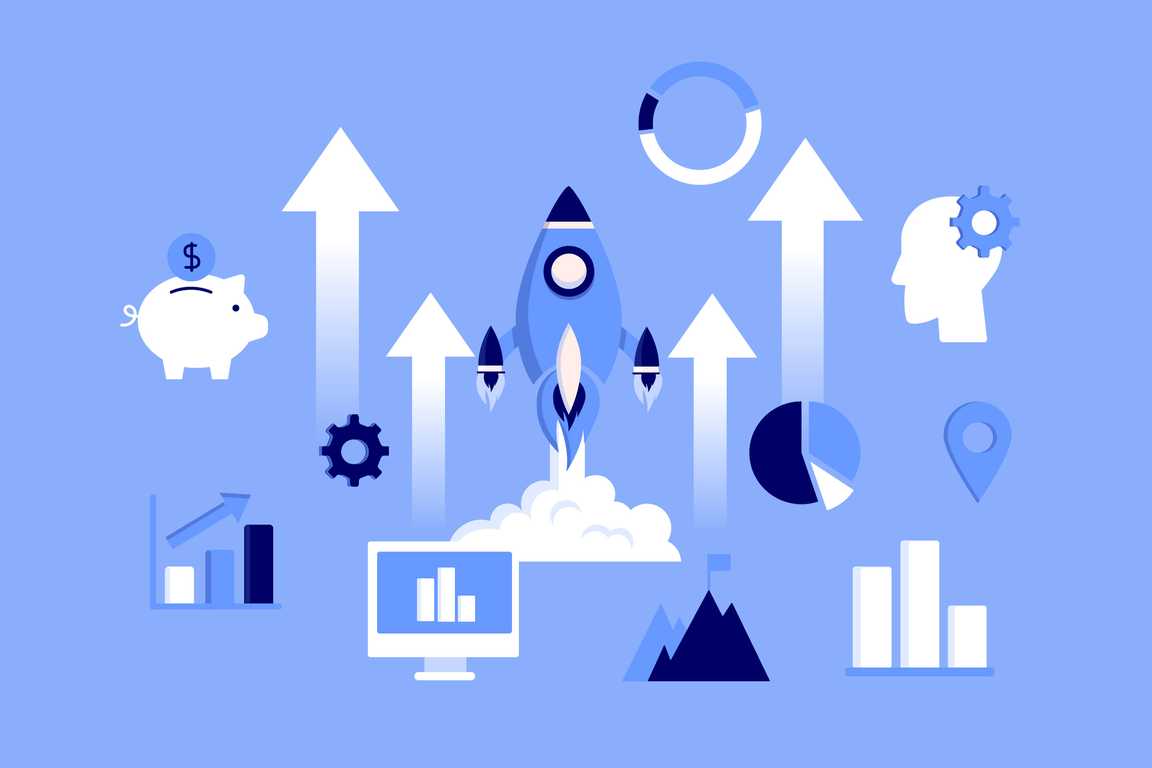 What do blockchain have in common with soul or with solar power? Learn about intriguing blockchain technology trends.
Blockchain is much more than cryptocurrencies and has been for a long time. It is already well established in the business world, and ideas for its use are constantly on the rise. For this reason, it is worth keeping up to date and exploring the possibilities of blockchain technology, the potential of which is certainly still untapped.
In this article, you will read about 6 evolving blockchain-based technology trends, application scenarios and selected projects in which they are already employed.
1. Soulbound tokens: blockchain with soul
Why blockchain is the right technology for SBT
One of the key features of many blockchain platforms is that they provide some level of anonymity (or rather pseudonymity). Anyone can create an account on the blockchain and such an account is difficult to link to a user's identity in the real world. While this is good for anonymity and privacy, it creates problems in use cases where it is the identity verification that would actually be useful.
Why is it called Soulbound
Unlike NFTs and cryptocurrencies, which can be traded on the open market and transferred from one wallet to another, Soulbound Tokens (SBT), are permanently tied to a wallet or account for its lifetime. Such wallets or accounts that hold Soulbound tokens are referred to as "Souls." These tokens cannot be sold, and ownership is granted on a basis other than price, which in the case of NFTs is usually the main determinant of affiliation. The idea is that SBTs will only be able to be revoked by the issuer of the token in question.
Soulbound tokens and security
In order to protect Soulbound tokens from the possibility of theft, Vitalik Buterin (creator of Ethereum and one of the proponents of the concept) has proposed a community-wide adoption of a "social recovery model." Through a "social recovery" mechanism, users can designate a group of individuals or institutions as "guardians" who have the ability to access and change the private keys to their soulbound token-assigned wallet if it is compromised.
You might have heard a lot about this concept before mid-2022, but a smooth implementation into practice remains to be seen. We will still have to wait for widespread application.
Examples of the use of soulbound tokens: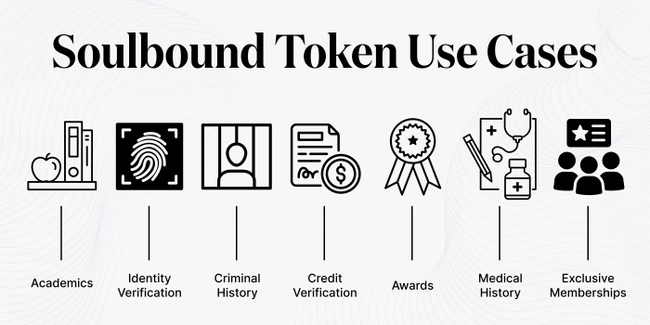 Potential applications for Soulbound tokens. Source: nftnow.com
Selected projects using Soulbound tokens:
2. Green cryptocurrencies
Why cryptocurrencies need to change
We will see attempts to replace fossil fuels as the primary form of energy, with a less damaging and renewable one - this is happening in other industries and will have to happen in this one too. Mining Bitcoin consumes huge amounts of power, which works against its reputation in the public eye. The growing awareness of cryptocurrencies' energy consumption and repression in various countries, such as China, will likely force the crypto industry to adapt.
How to create more sustainable cryptocurrencies
The most obvious solution is simply to change the consensus algorithm from Proof of Work to one that is more favourable to the environment, such as Proof of Stake. This algorithm needs much less computing power to create the next block.
If the PoW mechanism is left in place, projects will be forced to change the primary form of energy supplied to one that is environmentally favorable - say, solar. The problem with the willingness to change is in the volatility of crypto prices – most projects may simply not be able to change their infrastructure if mining a given token yields little profit.
However, changing laws (going more and more green) will be directed toward making amendments ordering mines to obtain environmentally friendly energy, so we'll see a lot of changes in the coming months and years in terms of greater environmental friendliness.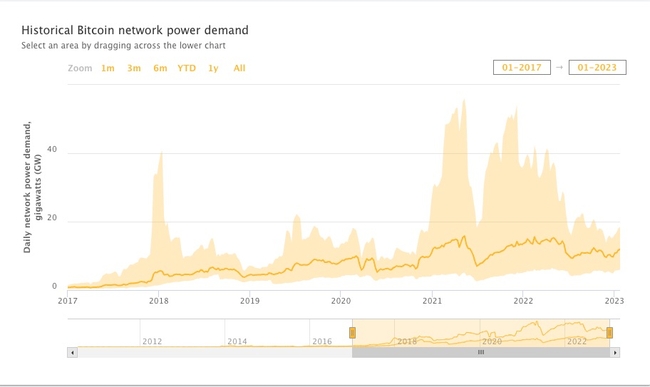 Bitcon network power demand. Source: Cambridge Bitcoin Electricity Consumption Index
A selection of projects that are committed to green cryptocurrencies:
3. Regulated digital currencies: CBDC
What is CBDC
CBDCs are digital currencies of central banks. In the coming months/years, official cryptocurrencies, backed by fiat money, will be the norm for each country. CBDCs are issued and regulated by national monetary authorities or the central bank. Central bank digital currencies are centralized coins and transactions using them cannot be anonymous.
You can hear about central bank currencies in an episode of our podcast, in which we explain in simple terms some complex issues from the world of technology and Web 3: Jak w Blockchain: Episode about CBDC (in Polish)
CBDC related projects: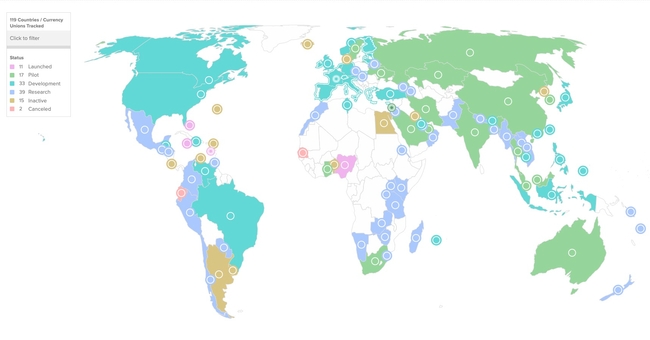 Updated map of CBDC development worldwide. Source: Atlantic Council - Shaping the global future together.
4. Find2Earn: games utilizing blockchain and NFT tokens
What Find2Earn means in practice
This is an opportunity to transform the NFT acquisition process into a game suspended in augmented reality. Developers will be able to put their NFTs across the map, using AR technology and geolocation. This means that users will, for example, physically move around in the real world, locating and tracking the NFTs they want to receive.
The form of the game depends only on the creators' creativity and technological capabilities. So we can imagine racing someone around the city with an AR lens (or just a phone in hand) to get a selected NFT that is hidden somewhere on the edge of the map.
Selected projects with Find2Earn model:
Potential Find2Earn view. Source: Rebase Portal
5. Prepaid cards in crypto currencies
How do the crypto cards work
It is a service, allowing the transfer of a given amount of cryptocurrencies to an intermediary and receiving in return a prepaid card with a value equivalent to the deposited funds in the chosen fiat money. A solution conducive to crypto adoption, being easy to use even by newcomers.
Perspectives for prepaid cards in crypto
The adoption of cryptocurrency payments varies from country to country and takes time. On top of that, constantly changing regulations deter manufacturers. Prepaid cards do not require changes to the payment system by the vendor, allowing the consumer to shop at any store that offers prepaid cards.
Selected projects using crypto prepaid cards:
6. Multi chains bridges: communication between various blockchain networks
Multichain – what is it
Simply said it is just communication between networks. These solutions allow different blockchains to communicate with each other without the help of intermediaries, mimicking the way the Internet works today.
Multichain can render many platforms and projects obsolete. Particularly at risk are interfaces that allow tokens to be transferred from just one chain to another. Compared to those that will operate on multiple chains, the functionality of the single ones will be seriously limited.
Examples of multichain use:
Selected projects using multi chain bridges:
DEX: Uniswap, Sushiswap, Bancor itp.
DEX Aggregators: 1inch, Matcha etc.
Cross-Chain DEXes, such as: Thorchain.
Centralized/decentralized bridges: Binance Bridge, Terra Bridge, etc.

The Cross-Chain Interoperability Protocol. Source: Chainlink
What's in store for blockchain
This list, while extensive, does not exhaust the potential that blockchain technology has to offer. Blockchain has gained immense recognition in the last decade, thanks to Bitcoin. However, its capabilities go much further, and use cases are multiplying right before our eyes.
We can observe how blockchain is changing or downright revolutionizing the functioning of many industries. Blockchain technology has proven to be a turning point for many areas of the economy, including healthcare, real estate, cyber security, education, supply chain and logistics, or IoT.
The features of blockchain technology, such as transparency, security and resistance to counterfeiting, contribute to its growing appreciation and position it as one of the most revolutionary technological tools of our century.